When it comes time to stain your wood floors, you have a choice to make between stains. You can go the typical route of picking from a limited range of oil-based stains. Or you can opt for SamaN's water-based stains. The real difference between these products boils down to two meaningful points: beauty and ease-of-use.
Creative Freedom
Water-based stain gives you the most creative freedom in staining your wood floors. Where oil-based stains limit your ability to restain, SamaN's water-based stains permit you to pick a new color and apply right over your last application whenever you want. The new coat reopens the first coat and blends to form a whole new stain color. Because they are able to blend with reapplication, SamaN's wide range of 40 colors become primers that can be mixed and matched to form as many vivid and rich colors as you can imagine.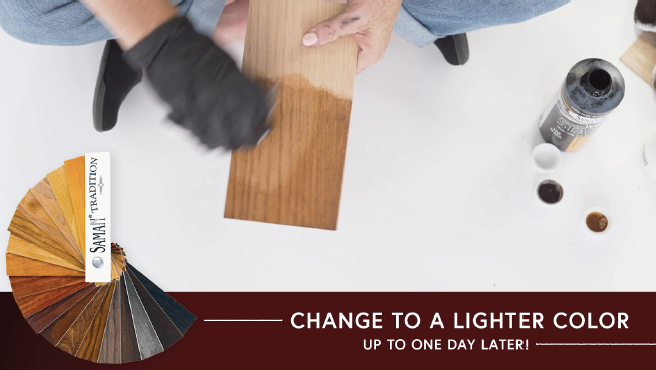 You'll no longer need to go hunting for a specific shade of oil-based stain that may or may not match other decorative elements in your room; instead, you can tailor the color of your floors to your exact specifications. Dark to light or light to dark; from one end of the rainbow to the other; with SamaN, you're not limited to one color or one application.
Safe and Effective
When you stain your wood floors with SamaN products, you're not just making an aesthetic choice, you're making a pragmatic one. Unlike any other stain, SamaN's water-based stain can easily blend away lap lines, giving your wood floors that look of seamless ubiquity. These stains require no pre-conditioning and are completely odorless.
Anyone who has ever worked with oil-based stains surely understands the difficulty that goes with using them: the noxious smell, the difficulty of the application process, the time required for drying. When you use SamaN's water-based stains, you bypass these difficulties. SamaN stains can be sprayed on, dry within two hours, and can be tinted with universal colorants; they're also non-flammable and VOC compliant. When you use SamaN stains, you make life a lot easier for yourself — not to mention safer.
A Versatile Stain
Whether you're trying to highlight the unique grain pattern of your wood floors, blend stains for a multi-colored finish, or just trying to make life easier for yourself by cutting down on odor, drying time, and ease of application, the choice for your next DIY or contract project is clear: SamaN water-based stains. Check out our list of stains and varnishes.