Granite Coating
(sponsored product)
Ames | amesresearch.com or 888-345-0809
Capstone Granite removes the biggest detriment of most concrete surfaces—the appearance! Capstone Granite is an interior/exterior, water-based and acrylic coating with a multicolor blend of decorative chips for a granite-like appearance. This coating is ideal for horizontal and vertical surfaces such as pool decks, porches, patios, decks, walkways, walls and more. Capstone Granite is nontoxic, low-odor, features water clean-up and is made in the U.S.
---
Multi-Surface Waterproofer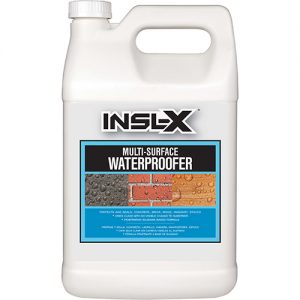 (sponsored product)
Benjamin Moore | benjaminmoore.com
INSL-X® Multi-Surface Waterproofer protects and extends the life of many exterior surfaces. It uses a siloxane-based formula to penetrate and waterproof the surface without changing its natural look or texture. Ideal for use on vertical or horizontal surfaces including concrete, brick, wood, masonry, stucco and more.
---
Interior and Exterior Paints
Miller Paint | millerpaint.com or 503-255-0190
Miller Paints new Northwest Color Collection includes 132 fresh colors of muted and contemporary hues carefully curated for balance, beauty and harmony. The colors make mixing and matching within the collection effortless, allowing designers to create a harmonious palette that is layered, comfortable and unique. The Northwest Color Collection can be mixed into all Miller Paint product lines, both interior and exterior.
---
Heavy-Duty Knee Pads
Brass Knuckle® Protection | brassknuckleprotection.com or 770-674-8930
Brass Knuckle BKKN200 Heavy-Duty knee pads provide all-day protection with a hard, contoured polyethylene cap. Each knee pad conforms to the shape of the knee cap to enhance patella stability and reduce risks of impact and injury. The rounded, abrasion-resistant cap allows for safer pivoting and heavy-duty work on the knees while foam padding throughout maximizes wearer comfort. Pads come in one size with an adjustable strap to keep the pad where it should be.
---
General Purpose Adhesive Resin
Master® Builders Solutions | master-builders-solutions.com
MasterEmaco ADH 502 is a general purpose two-component non-sag epoxy for cap seal adhesive and repair applications. Its non-sag property is ideal for bonding most materials and both overhead and vertical repairs using a standard caulking gun. It is low-odor, solvent-free and moisture insensitive and cures hard in three hours. It is acceptable for use in USDA-inspected facilities and UL-certified for drinking water systems.
---
Acrylic Glaze
Golden Artist Colors Inc. | goldenpaintworks.com or 800-959-6543
The BLACK+DECKER 4V MAX* Cordless Glue Gun works on a variety of materials, including paper, card, fabric, cork and wood for crafting and light DIY tasks. It is ready to use in 30 seconds and provides up to 25 minutes of runtime on a single charge. It features a self-standing base and an integrated LED light to illuminate projects.
---
Retailer Recommendations
Send an email to tell us about the products your customers love and why they are such a hit in your business.