Hinge Pin Removal Tool
MARSHALLTOWN's Door Pin Removal Tool can be used to easily remove door pins from hinges. A spring-steel retaining clip secures the door pin during removal. The tool features an anti-slip knurled grip, and its plating is rust- and corrosion-resistant.
MARSHALLTOWN | marshalltown.com or 800-888-0127
---
Metallic and Texture Wallpaper
York Dazzling Dimensions Wallpaper is prepasted, washable and strippable. Made from York's Sure Strip material, it features a straight match with repeating metallic and textured patterns. Rolls are 27 inches by 27 feet (60.75 square feet).
York Wallcoverings | yorkwallcoverings.com or 717-846-4456
---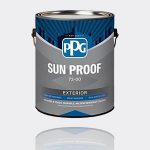 Exterior Latex Paint
SUN PROOF® Exterior Latex paint's 100% acrylic latex formula provides durability, dirt resistance, low-temperature application and adhesion. It can be used on properly prepared and primed new and previously painted exterior siding, doors, trim and windows. It is formulated for application in temperatures as low as 35 F (2 C).
PPG | ppgpaints.com or 800-441-9695
---
Chinex Cub Paintbrush
Purdy® Chinex® Elite™ Cub™ paintbrushes are pre-flagged for better coverage and fast application. The extra-stiff DuPont® Chinex™ filament bristles are durable and easy to clean. They're designed for heavy-bodied and low VOC coatings for use on textured surfaces like stucco, rough-sawn lumber and brickwork. They're handcrafted in the U.S.
Purdy | purdy.com or 800-547-0780
---
Dual Temperature Hot Glue Gun
The BLACK+DECKER Dual Temperature Hot Glue Gun is ideal for crafts and repairs. Use the low-temperature setting for more delicate materials like ribbon, silk florals, Styrofoam, burlap and lace, and the high-temperature setting for applications where a strong bond is required, like wood, plastic and thicker fabrics.
Black + Decker | blackanddecker.com
---
Decorative Tile
Walker Zanger's Pietra Gris stone tile collection features subtle, unique and naturally occurring color variations, embodied in mosaics and field tiles with a foundational palette centered around natural whites and cloudy gray veins. The tiles are robust enough for residential and commercial applications and are suitable for kitchens, bathrooms and other interior spaces. The Pietra Gris collection comprises twelve items: 10 sophisticated mosaic patterns and field tiles in two size options: 12 inch x 24 inch and 4 inch x 16 inch.
Walker Zanger | walkerzanger.com or 818-280-8300